ERICA
POLE DIVAS RICHMOND STUDENT AMBASSADOR
It has literally been "Love at first sight" between me and Pole Divas Richmond. One day I just walked past the studio and I knew I wanted to try a class immediately. It was closed at that moment, so I decided to take a good browse on their website and walked in the studio the same night with my gym bag ready to take a class straight away :) how silly I was, of course I had to book! I decide to sign up for the beginner course but I had to wait until the following term in order to start, which was 6 weeks away. It felt like an eternity! So I tried all the casual classes that I could make in that period and I became more addicted every time after each class, whether it was a dancy or a stretchy one.  I am the living proof that you don't need to be brave or you don't need company to start pole! everything you need will come your way!
Ainslie
AERIAL DIVAS STUDENT AMBASSADOR
I thought I was living my best life before Divas.  I was so wrong....!
I started Lyra with very low expectations of what I'd achieve.  I just wanted to do some training each week to rehab my core after without having to punch out hundreds of sit ups at the gym.  Lyra definitely delivered on this.  I have more core and upper body strength than I've had in a very long time.
There's an inherent beauty in aerials; its balletic,while retaining the strength elements of pole training and it really challenges you to develop whole-body strength.  I love everything about it - being up high, spinning, the beautiful lines, the creative elements, the facility to play any character and transform reality for perhaps just a moment.  Lyra life - circus life -  is now an absolute addiction for me.  I have met incredible people and I've got more strength now that I ever have both mind and body. I LOVE my time in the studio.  Everyone needs to give this a go!
SYLVIE
POLE DIVAS PRAHRAN STUDENT AMBASSADOR
When I first moved to Melbourne I didn't have any friends here so I decided to join a group to meet new people. I did a little bit of poledancing in the past so I looked up studios and found Pole Divas. I signed up for a beginners static course and I also tried all the casual classes. I loved watching all the lovely divas practice and doing tricks but I really struggled with my own body image and lacked confidence. I was not however ready to give up and soon I could see my own progress, accepting myself for who I am, class mates becoming my friends and the studio my second home. Pole Divas Prahran is my safe place full of friends, support, fun and happiness.
Bek
POLE DIVAS HAMPTON STUDENT AMBASSADOR
I had done dancing for 9 years before breaking my foot and considered my dancing days over. I tried to get into the whole "gym" thing with little success - it was boring and I was getting too obsessed and depressed over what my body looked like. A close friend that did Pole at Mornington Divas told me to come along to a lyra open day. While there I couldn't keep my eyes off the pole class both before and after our lyra class. I found myself staying back each week watching them in awe. Seeing them and my friend doing pole inspired me to sign up to a beginner pole class shortly after and I felt like the world was colour again. I was re-inspired to push my body for what it could do - not what it looked like and found happiness in excercise and movement that I hadn't felt in years! Happy places make happy people - and I am now one of those happy people at Divas!
Twee
POLE DIVAS CAROLINE SPRINGS STUDENT AMBASSADOR
I'm not fit, and I definitely didn't come from a dancing background. The most exercise I did was walking my two huskies. However, I did want to be healthier as I have spinal disc prolapse or slip disc and I did not want that to be the reason why my life is limited. So, I decided to find something more challenging and trust me I tried. I thought paying up front for a gym membership would motivate me, nope. So I got a personal trainer, nope. I started doing Yoga and Pilates, nope. Nothing was sticking for more than 6 months, so I went out looking for something different. Without me even realising it I completely fell in love with Pole, it made me stronger physically and mentally. I've form friendships with the most genuine humans, who are supportive, silly, encouraging and uplifting. Three years strong and still going, I can't imagine my life without Pole now. Pole made me a happier person and I can't wait to spread that happiness!
Jay
POLE DIVAS MORNINGTON STUDENT AMBASSADOR
I'd seen Silks performed & wanted to give this beautiful sport a try. I looked into it about 14 years ago but there wasn't much to offer back then. Fast forward to 2014, 3 babies & I now live in Mornington. A Google search brings up Silks but it's too far from me. Then Pole Divas came up & better still, a studio in Mornington. OMG!!! It's 2 minutes from me. OMG!!! A new term is starting in 2 weeks. OMG!!! A few emails to Allira & I'm hooked. Down to studio, and I'm booked in for Beginners. I opened the studio door for my first class (Monday 6:30 with Eliza) & I instantly fall in love. Four Years on, so many classes danced, I have learned tricks and combos that I never thought possible, beautiful friendships made, laughter, cheers and even some tears have been shared with my Diva Fam Bam. I am most definitely the luckiest girl in Mornington. Showcase is done for 2018 & just when I think Diva life couldn't get better, I'm honoured with representing Mornington as Student Ambassador for 2019. Hope to see you there. Jay x
Elyshia
POLE DIVAS MOONEE PONDS STUDENT AMBASSADOR
A friend asked me to try pole dancing with her. Like many people, I thought of pole dancing as nightclubs and sexy, and I was far from sexy. I declined. My friend asked me again a year later, again I declined and explained to my mum what a stupid idea it was. I was in the middle of depression and my mum thought it was a fantastic idea. It would get me out, do something new and meet new people. After researching classes, I showed up an hour or so before a beginners class, spoke to reception then called my friend, who then declined. I started pole by myself and was hooked. While my friend never ended up starting pole due to an injury, I've made so many new friends and I love feeling sexy sometimes. It pushed me out of my comfort zone and has made me such a better person. My confidence has gone through the roof along with many other things.
Kim
AERIAL DIVAS RICHMOND STUDENT AMBASSADOR
I didn't understand the concept of fitness before I arrived in Australia ten years ago. I always relied on being "small" but "skinny-fat" and unhealthy. I looked up "dance school" and found Pole Divas so I started pole dancing. A few years later, it gave me "superpowers" (new-found strength) so I decided to try aerial hoop (lyra) when Aerial Divas launched in Richmond. Throughout my ten years as a diva, I have made some life-long friends and have enjoyed performing through joining pole and lyra competitions. I love how friendly everyone has been, it's truly a community and this new found confidence that is here to stay with me for life. I'm proud to call myself an Aerial Diva!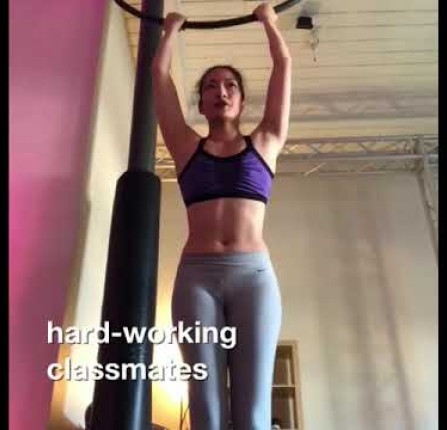 SELECT STUDIO