Sonja
POLE DIVAS RICHMOND STUDENT AMBASSADOR
TBC
Mika
AERIAL DIVAS MORNINGTON STUDENT AMBASSADOR
TBC
Anna
POLE DIVAS PRAHRAN STUDENT AMBASSADOR
TBC
Jo
POLE DIVAS HAMPTON STUDENT AMBASSADOR
How I found pole and why I'm in it for the long haul …
I was first introduced to pole in 2008 at an 'Intro to pole' workshop at the Prahran studio. This was also the day I did my first striptease (without the stripping) for a girl I'd said "hello" to 30 minutes before … Nat and I are still friends today. This is the legacy of pole.
After a long break (and two kiddies), I'm back at Pole Divas, Hampton. Why? Because I got tired of walking passed the studio and not being able to climb the stairs, open the door and 'get my pole on'. So I boasted to a friend about how I used to 'pole' (back in the day) and that it was the best fun a girl could have while keeping fit … a few days later, she was hooked after her first casual, and I was back in 'full spin'.
I've been at Pole Divas Hampton for a year now, and am proud of my achievements. I'm fit, healthy and strong, and I'm having the time of my life. I'm surrounded by phenomenal women who lift and inspire me, who encourage and challenge me, and who envelope me and my kiddies in love and support. Why would I go anywhere else?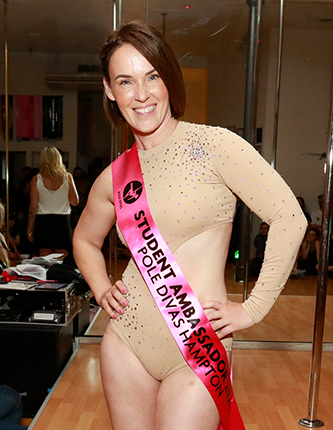 Lauren
POLE DIVAS CAROLINE SPRINGS STUDENT AMBASSADOR
I started at Pole and Aerial Divas Caroline Springs 3 years ago and like most people, was overcome with every possible emotion you could think of: scared, anticipation, nervous, excitement...the list goes on and on. However before my first class, a friend told me I was going to be too fat to pole dance and that I would fail if I attempted it. As you can imagine, this destroyed any form of confidence or excitement I had, and filled me with self doubt and I was absolutely terrified. However, being that I had already paid for the term, figured I should make the most of it and still attempt it.
I definitely struggled with the classes in the beginning, and was still battling my own inner saboteur, however seeing the growth and progression each week was what really made it exciting and hooked on pushing myself and succeeding. Three years later, and I am a completely different person.  I went from knowing no one in class, to having the biggest support system possible. I went from being unfit and unhealthy to being strong and healthier. I went from being reserved and lacking confidence to being empowered and sexy. In the beginning, I definitely wasn't strong enough to pole dance, but I am strong now BECAUSE of Pole Dancing.
Pole and Aerial Divas has definitely made me a stronger, confident, empowered and motivated woman and I am never going to stop thanking each and every person who made that possible.  
Bonnie
POLE DIVAS MORNINGTON STUDENT AMBASSADOR
I need to start living a healthier life!" My unhealthy self said. I was about to book personal training sessions back in 2014 when my friend asked me, "I found this place called Pole Divas, want to give it a go instead?" … fast forward to 2020 and I am still here, I am always here! Coming from no fitness background whatsoever, I thought that I would be an absolute flop at dancing and trying to lift myself up. But after attending regular classes each week, my body built up the skills and strength to perform cool tricks and dances! While training at Pole Divas, I was too busy having fun and challenging myself to realise just how much my mental health had improved. It wasn't until my parents mentioned how much happier and confident I was, that it struck me how helpful pole was for my mental and physical wellbeing. After pregnancy, my body was very different and weak. I had to start my pole journey from the beginning. The supportive instructors got me back into the swing of things and now I am stronger and fitter than ever before! I have made a circle of lifelong gal pals thanks to Pole Divas and continue to make friends each term.
Melissa
POLE DIVAS MOONEE PONDS STUDENT AMBASSADOR
My name is Melissa Cannizzaro, I'm 36 years old, a mother of 2 girls, and have been poling for just over 2 years. I first started at Pole Divas Moonee Ponds as a casual attending a Pole Moves class once a week. At the time, I was in a rut with my mental and physical health and felt like I needed to find a hobby or activity that would bring some spark back into my life and to help me snap out of my mum and wife mode, out of work mode and get back into feeling like the old me. Having being a dancer as a kid and through to the end of high school (17 years prior), I felt like I needed to get back to doing something that I loved. I chose Pole Moves and Pole Divas Moonee Ponds as I had attended hip hop or jazz classes elsewhere and was dismayed being the only older girl in the class. I also was sick of attending a gym on my own and feeling like a fish out of water. The moment I walked into Divas I knew I had made the right choice. From the bubbly and friendly desk divas to the funny and supportive instructors, although I was completely buggered after just the warm up, I knew I had found what I needed. The following year, after seeing all the amazing students at showcase, I decided I wanted to give the courses a try and have a crack at those super cool tricks. Since then, I have enjoyed the challenge, the positive results on my physical health and the pride of accomplishments. All these positive things you hope and expect from a workout or a session at the gym but nothing can ever prepare you for the pole community we have at Pole Divas. It's everything you never knew you needed. The people you meet here are the type of people you want and need in life. Happy, supportive, caring, encouraging, REAL girls. My only regret in life is not joining sooner but I'm definately making up for lost time.
Sallie
AERIAL DIVAS RICHMOND STUDENT AMBASSADOR
Lyra and I didn't meet straight away - I was doing Pole and loving the strength, community and confidence it was giving me. So much so that I thought, why not try Lyra - it's so pretty! Within a year I went from a Lyra Basics casual class, to Beginner Lyra, to Intermediate Lyra and performing! It's given me greater flexibility (getting those flat splits), even more strength (never thought I'd hang upside down by my legs after primary school) and a ridiculous amount of confidence (it's scary in a good way). Pole and Aerial Divas is a second home for me - actually, I'm probably there more than my actual home - and I'm so glad Divas gave me the ability to try Lyra because now we're madly in love and ready to tell the world!
Marlena
AERIAL DIVAS CAROLINE SPRINGS STUDENT AMBASSADOR
I have trained at gyms for over 20 years. so many fad trainings from Intense Cycle, HIIT sessions, Running, Pilates, Weights and endless challenges. I was bored. I lost my passion & stopped having fun.
My first pole encounter was at a Pole Divas hens' night party. I felt so unco, but it was so much fun.
I knew then I was going to be addicted.
Once I started pole dancing, I felt amazing, built muscles I didn't know I had and have never looked back.
A little after 6 months of doing pole dancing our studio introduced Aerial Lyra. I saw so many insta videos on circus training that I couldn't contain my excitement. I knew I wanted to try this and my addiction was amplified beyond belief. If Lyra wasn't enough, I added Aerial Silks to my circus repertoire.  Every chance I get you will find me on a hoop attempting a new trick.
 
I love circus training it has given me so much confidence. Super fit, physically & mentally stronger. So much support and encouragement from my amazing new diva family and friends.
Super honoured to be Caroline Springs first Student Aerial Ambassador 2020 & an Aerial Diva for life.
My passion is back & maybe I will join the circus one day.
Emma
POLE DIVAS RESERVOIR STUDENT AMBASSADOR
I started pole by going to a "Come and Try" day with a mate who knew Lauren (Prahran instructor at the time) and we thought it would just be a big laugh and a silly way to burn off some energy. It got about 10 minutes into the class when I realised it was actually quite rigorous and required a lot of strength, motivation and trust to be able to do the tricks and moves she was teaching us. From that day I had a lot more respect and admiration for pole dancers and it started to open my eyes to how fun this style of dance and exercise could be. About 1 year later I heard from the same friend that Lauren had opened her own studio with Frances in Reservoir (about 15 minutes from home) so we thought why not go to a class during their free week and see what happens. About 5 minutes in, I was hooked. I felt strong, confident, empowered and most of all accepted. In the last year or so that I've been at Pole Divas Reservoir I've felt such a strong connection to this sisterhood that it's really given me a safe space to accept myself and learn so many things about my own abilities and strength I never knew I had. I've found that my physical and mental strength have increased more than I ever thought was possible and I am so very grateful to have been given this opportunity. I love my Divas and am so excited for everything this year will have to offer us!
SELECT STUDIO