Back to news & events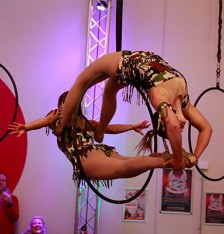 Aerial Addiction 2021
Aerial Addiction is back, our in-studio student aerial competition. And THIS YEAR, for the first time ever, we are introducing a SILKS DIVISION. We want to give every student the opportunity to perform and 'get the feel' of what it's like to compete in a aerial competition therefore we have created Aerial Addiction. Aerial Addiction will be held all Aerial Divas studios: Mornington, Richmond and Caroline Springs and you will be judged by your very own Aerial Divas instructors. What better way to experience #complife than to experience the journey at your second home, where you feel most comfortable!!

Entries have now closed. Tickets will be on sale Monday 5th July 2021 via your studio.
As always the winners of Aerial Addiction will gain automatic entry into Airborne. Wildcards will be chosen from Aerial Addiction to compete at Airborne 2021! Showcasing five lyra divisions, plus two divisions for aerial silks, Airborne is a night not to be missed. The night will be filled with extreme flexibility, on point musicality, creative concepts and outstanding lyra tricks & combinations. Our students throw their heart and soul into their performances so come down to support them as these girls are some of the best amateur aerial students Victoria has to offer! Completely child friendly.
AERIAL ADDICTION DATES
Mornington - Saturday 17th July 2021, doors 1:30pm, show 2pm
Richmond - Saturday 17th July 2021, doors 5:30pm, show 6pm
Caroline Springs - Sunday 18th July 2021, times TBC
AIRBORNE
Saturday 14th August, 2019 to be held at Gasworks Arts Park
LYRA DIVISIONS
Beginners - Beginners
Intermediate - Intermediate
Advanced - Advanced Prep & Advanced 1
Elite - Advanced 2 & Advanced 3
Open Doubles - any level students
SILKS DIVISIONS
Beginners - Beginners, Beginners 2
Intermediate - Intermediate, Intermediate Prep
WHO IS ELIGIBLE?
This is an Amateur level competition therefore if you have won a National Competition in the past 3 years you are no eligible. If you are unsure please speak with your studio
Current Term 3 and Term 4, 8 week course students only at the location they want to compete in. Students can compete in more than one Aerial Addiction if they are in courses at both locations
The level that you are in for Term 3, is the Division you will enter for Aerial Addiction and compete in for Airborne. If you pass your level at the end of term 3 then you will still be able to compete in that division
Instructors (from any studio) are not eligible
Desk Divas can apply
Cannot have been in the Semi Pro division of Miss Lyra
Cannot have been in Rising All Stars or All Stars
Please be aware that your tricks in Aerial Addiction must be suitable to the level you are competing in. Please clarify with your instructors and coaches. You could have points deducted if you include tricks above your level and be asked to take them out if you go on to compete in Airborne.
PRIZES & SASHIES
AERIAL ADDICTION
First place winner for each division
Dare Devil - Best Trickster
Drama Queen - Best Character Portrayal
Show Pony - Best Overall Presentation
All FIRST place winners will gain automatic entry in Airborne
All other specialty award winners will win 1x workshop at their local studio, valid for Term 5 and Term 6
All winners will receive prize packs which will include items generously donated by local businesses
AIRBORNE
All category winners will win the coveted pink sashes and prizes from our sponsors. There will also be a best costume award.
HOW TO REGISTER
Download the registration form which will be available from Monday 21st June. Email your completed registration form to your local studio. You will be emailed a confirmation back. Emails below: richmond@poledivas.com.au, mornington@poledivas.com.au and carolinesprings@poledivas.com.au.
If you gain automatic entry into Airborne, you will need to pay a live competition fee of $40
Once they have submitted your registration form and made payment then YOU ARE IN.
Registrations close Thursday 1st July.
JUDGING CRITERIA
SOLOS
Tricks technique & execution - 10 points
Tricks level of difficulty – 10 points
Movement & musicality – 10 points
Audience connection/showmanship – 10 points
Concept – 10 points
TOTAL OUT OF 50 POINTS
DOUBLES
Tricks technique & execution – 10 points
Tricks creativity /synchronicity – 10 points
Movement & musicality – 10 points
Audience connection/showmanship – 10 points
Concept – 10 points
TOTAL OUT OF 50 POINTS
MUSIC
Music tracks must be no longer than:
• 2.5 minutes for Beginners and Intermediate
• 3 minutes for Advanced, Elite and Doubles
*Music not to contain excessively explicit language as it is an all ages event.
COSTUMES/PROPS
• No nudity or partial nudity. No G-strings or leotards that turn into G-strings once in the Lyra! This is an all ages event.
• 2x Human Props allowed - they cannot touch the lyra
• For your safety, no high heels or big platform shoes
• If you wish to use a prop any larger than a chair, please run your ideas by the producers via comps@poledivas.com.au
For further information please speak with your lovely Desk Divas or email comps@poledivas.com.au
xx Happy Training!
SELECT STUDIO