Back to news & events
Miss Pole Dance Australia 2020
What a weekend we've all just had!? Miss Pole Dance Australia was PHE…NOM…ENAL – and that's an understatement! If you were watching the live stream at home or were seated at the Enmore Theatre (Sydney) the feeling of anticipation, excitement and adrenaline was shared state-wide among all. From seeing the best pole dancers of Australia execute epic performances, to witnessing our girls perform with all their heart and soul, to realising that all winners were Victorian and to seeing the best moment of the night, Mischka taking out the title of Miss Pole Dance Australia 2020, it will go down in the Australian pole dance history books as one of the greatest nights ever.  It was a big night for all, but an even bigger night for all the competitors, who had trained for months and months prior, all for their heroic 5-minute stage time! And by-golly, did they BRING THE SHOW!
Kicking off the night was the iconic opening number, choreographed by the queen herself, Chilli Rox! We enjoyed an awesome Bon Jovi medley of hits (sung by the man himself *wink*), not only featuring legendary pole dancers such as Carlie Hunter, Adam Lin, Felix Cane, Blue Phoenix, Lennox and Daisy, but it also starred our very own Gracie Buntine, Miss Pole Dance Australia 2019. It was Gracie's night to bask in the glory one last time and to pass the crown on to the next big pole dancing name of Australia! The opening show was epically choreographed, incorporating all styles of dance – one special, memorable moment was seeing Gracie and highly skilled dancer, Isaac Clark (@isaacclrk), dance to "Bed of Roses", with kicks, flips and all the emotion – it was so breathtaking. The gorgeous Gracie dancing in what looked like a 6x6-meter red piece of silk was everything – truly magical. Gracie, you are a phenomenal dancer in every way, shape and form, and I loved seeing you dance in that opening number. Congratulations Gracie, on an epic 12 months of being Miss Pole Dance Australia 2019, time flies when you have that title huh?! We are so lucky to have you as a Pole Divas instructor and we cannot wait to see where the future takes you! Oh wait! Those body rolling cowboys were pretty delicious too!
We are beyond honoured to have these ladies a part of Team Pole Divas – the dedication and hard-work these ladies put into, not only their own training but to our students, as coaches is incredible and we are so grateful. They push past their limits as professional athletes, kicking their self-doubt up the butt, to be the best they can be on stage. They are the ultimate inspiration – our pole unicorns for life!  The immense feeling of happiness we have for each one of these strong women is beyond any words, we cannot scream the word 'proud' loud enough, they have filled our hearts with so much love and pride.
SAMANTHA WILSON - this girl is one to watch – placing 3rd at Miss Pole Dance Victoria 2019/20 won her a place as a wildcard at Miss Pole Dance Australia for the first time ever! Bringing out the all creepy but sexy vibes, Samantha demonstrated true skill, ticking all the boxes: flexibility, dance, FACE, flips, flawless transitions and execution. She wow'd the crowd with her stage presence and confidence. Congratulations Samantha, you are amazing!
EMMA ELISE – WOW! The energy, showmanship and stage presence Emma brought to that MPDA stage was
second to none. We were bopping, bouncing and flapping our arms throughout the whole 5 minutes along with her and we couldn't get enough. She was colourful, full of smiles, incorporated intricate dance choreography and executed beast-mode tricks! Like Samantha, this was Emma's first time at Miss Pole Dance Australia, and what better way to end an awesome first time than by winning not only one, but two sashies – congratulations Emma on winning ShoeMe Sponsors Choice. She is now their new sponsored athlete for 2020, receiving 12 months worth of pole heels! Deserved!
MISS FILLY – hearts were racing to see this absolute legend hit the Miss Pole Dance Australia stage for the first time since her epic win in 2016/17. She certainly delivered a true masterpiece of a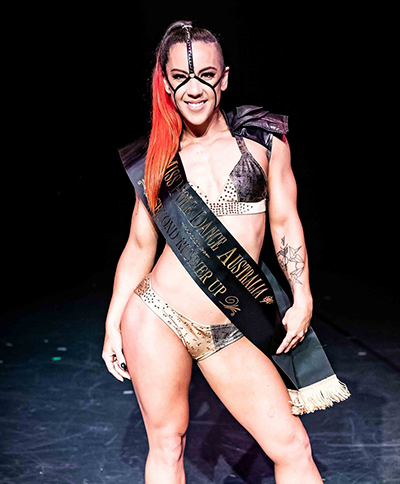 performance – fearless, artistic, badass and overall mind-blowing. Pwoaahh, pretty sure that 'ballsy' trust fall made everyone in the Enmore and at home gasp in awe! The audience's energy at the Enmore Theatre was contagiously loud when Chilli and Maxi were reading out her biography and show intro – the roar of the audience getting louder after every sentence, the excitement was crazy! Her "fierce slave warrior realness" performance awarded her 3rd place Saturday night at Miss Pole Dance Australia. Congratulations Miss Filly – you are and will forever be, one of the greatest pole dancers in Australia!
MISCHKA – OH MY GAWD! This woman! This beast! She did it! Words cannot describe how phenomenal her show was – her show not only delivered epic pole dance tricks, which demonstrated true strength, endurance and flexibility, but she told a story – the "bells and whistles" of her outstanding props, along with her stage presence of face, costume a
nd choreography took us on a wild voodoo adventure. And we didn't want it to end! Winning Miss Pole Dance Australia 2020 was the cherry on top of her 30th Birthday, this is Mischka's first ever "1ST" sashie. Just wow! What a win!? The audience screamed when Chilli, who didn't even say her name, instead saying, "…it's not a bad way to spend your birthday"; as soon as she said those words, the crowd roared over the top of the name "MISCHKA". There were many, many tears, people jumping up and down on chairs, hugs, kisses and did I mention tears?! The joy and happiness to see Mischka take the title of MPDA2020 was truly overwhelming. Congratulations Mischka, we cannot wait to see where the next 12 months will take you!
Congratulations Natty for placing 1st Runners Up, you performed an awesome show! Miss Pole Team and especially Chilli for putting on an epic night and bringing us #polemas (pole + Christmas = polemas) - congratulations for always delivering a legendary cast for the opening show Chilli - we loved every second of it!
Again, 'blessed' is probably the only word to describe how lucky we are to have these four incredibly talented and creative professionals as instructors and coaches at Pole Divas! We cannot thank and praise them enough for all their hard work, loyalty, dedication and determination.
Until next year pole lovers far and wide, carry on and keep on pole dancing!
Lots of love,
Team Divas! Xxxx
SELECT STUDIO