Back to news & events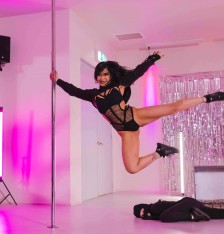 Pole Addiction 2024
Pole Addiction is our in-studio student competition held at all Pole Divas studios in Victoria. Pole Addiction unlike most comps has no audition process, just enter and you are in! It is an opportunity for ANYONE to get up and perform.
Pole Addiction 2024 dates
Richmond - Saturday 7th September
Moonee Ponds - Saturday 7th September
Prahran - Sunday 8th September
Caroline Springs - Sunday 8th September
Ringwood - Saturday 14th September
Mornington - Saturday 14th September
Reservoir - Sunday 15th September
This is your chance to show off your skills, challenge yourself, have some fun and experience the thrill of performing in front of a supportive crowd of your friends, family and fellow Pole Divas.
There are competition categories to suit everyone, all with amazing prizes and pink sashes to win! This is an amateur studio competition, open to current Pole Divas students only. If after reading through all this information you have more questions, lots of support, encouragement, and answers can be found at your local Pole Divas studio reception otherwise email comps@poledivas.com.au.
DIVISIONS
BEGINNERS POLE - Open to beginners & inter prep students
INTERMEDIATE POLE - Open to intermediate students
ADVANCED POLE - Open to advanced students
ELITE POLE - Open to elite prep and elite students
DOUBLES POLE - Open to all levels
DANCE DIVISION - Open to all levels
You may enter solo and doubles
ELIGIBILITY
SOLOS
Must be an enrolled Pole Divas student in Term 4 & 5 2024
You must compete at the studio where you are an enrolled Pole Divas student. If you are an enrolled student at more than one studio, you can compete at both. However, if you win your division at one studio, you will not be eligible to win at another studio, or if you win a specialty award at the first studio you will not be able to win it again at the other studio.
If you cannot compete at your home studio, you can compete at another location you are not enrolled in. However, you will not be eligible to win your division there.
The highest level you have completed, passed or enrolled in Term 4 2024 is the level you should enter. If you grade up for Term 5 2023, you are still eligible to compete in the level you were previously in for Term 4 2024. If you need further clarification about your category please discuss with your studio directly.
Have not previously competed in a semi-pro or professional competition
You cannot be a current paid pole instructor
Desk Divas CAN enter Pole Addiction
Please be aware that your tricks in Pole Addiction must be suitable to the level you are competing in. Please clarify with your instructors and coaches. You will have points deducted if you include tricks above your level.
DOUBLES
Must be an enrolled Pole Divas student in Term 4 & 5 2024
Open to any level
Have not previously competed in a semi-pro or professional competition.
You cannot be a current paid pole instructor
Desk Divas CAN enter Pole Addiction
E.g. An individual dancer in the group may have been competing professionally in solos competitions and that is fine. But if a duo has competed professionally as listed above then they are not eligible. Please email comps@poledivas.com.au for clarification.
Note - your doubles partner does not have to attend the same Pole Divas location as you but they must attend a Pole Divas studio and be enrolled in term 4 & 5 2024.
REQUIREMENTS
MUSIC
Music tracks must be no longer than:

2.5 minutes for Beginners & Intermediate and Dance shows
3 minutes for Advanced, Elite and Doubles shows

Music must not contain excessively explicit language. If you are unsure, please have approved by the organisers prior to use.
Music can be a mix of tracks
Will be at a first entered, first approved basis. If two competitors enter with the same music, whoever submitted their entry first will be able to use the track.
COSTUMING & PROPS
Shoes are optional - boots are allowed
No nudity or partial nudity is permitted. No G-strings are permitted. Clothing may be removed during the performance if the minimum costume requirement is maintained. Points will be deducted if you do not follow the costume requirements.
Only props able to be taken on/off stage in under 30 seconds by 1 person are allowed. Due to safety & storage issues, all props larger than a chair must be pre-approved.
Only 2 human props are permitted

All human props must have a valid Pole Addiction ticket to participate in your show
Human props must not touch the pole
Human props must be an integral part of your show
POLE GRIPS
Dry Hands, Griptinite, Koala Grip or similar grip aids with chalk are permitted
Banned Grips include: Rosin, iTac, or any grip that leaves residue on the pole after cleaning with alcohol.
POLE & STAGE SPECS
45mm Stainless Steel Poles
SOLOS – stage left pole spinning, stage right static (when on the stage looking out)
DOUBLES – your choice of configuration
Stage specs - please clarify with your home studio
Pole heights - please clarify with your home studio
AWARDS
POLE ADDICTION
First-place winner for each division
Special sashes not provided at ALL locations. Depends on the competition numbers 
Sexy Minx - Sexiest Performer
Dare Devil - Best Trickster
Dancing Queen - Best Character Portrayal
Show Pony - Best Overall Presentation
PLEASE CLICK HERE FOR JUDGING CRITERIA
*If there are obvious higher-level tricks included in routines at Pole Addiction points will be deducted
PRIZES
A coveted Pole Addiction SASHIE!
All winners will receive prize packs which will include items generously donated by studio sponsors
SPIRIT OF THE COMPETITION AND SHOWMANSHIP
Pole Addiction student competition was created to give Pole & Aerial Divas students the opportunity to challenge themselves, unleash their inhibitions on stage, experience the buzz and thrill of performing and have fun! We feel strongly about maintaining this purpose, so we ask for all students to enter the competition with this in mind. As competitors we want you to maintain the spirit of community and understand how important it is to be kind and supportive to one another, and importantly yourselves. The judges' decision is final and anyone found to be bringing the decision or the competition into disrepute may be deemed unable to compete in future events, as would unsportsmanlike bad behavior in the lead-up to and on the day of the event.
SELECT STUDIO