Back to news & events
WHY YOU SHOULD START LYRA?
The golden question we all know you are thinking, 'why should I start a lyra course?', "what is the new circus fitness craze?" Well what better way to get 100% certified answers than to go directly to the students and instructors who are 'living' your answer.
"I got into lyra after breaking my ankle. The lovely Cherie advised that it's a good substitute for pole because it's less straining on ankles and a good training tool for upper body strength, core and straddles whilst my ankle recovered which took a good 7 months before I climbed a pole again. Plus it's a squishy floor so even warm up is less straining! But that was nearly 3 years ago... I can't give it up!" - Gill Stefaniuk, Aerial Divas Student
"I originally started because I loved the look of it. It's beautiful apparatus and very feminine." - Veronica Waite, Aerial Divas Instructor
"I got into it just to give beginners a go. I didn't think I'd get addicted to it and love it so much. My first beginners class I didn't think I'd be able to get a single knee hook but after that, came more amazing and beautiful shapes and transitions that I wanted to achieve, and I had goals. I think people should give it a go as it's amazing and you have no idea of the things you learn and that you are capable of doing. You do so many strength-based things and flexi things without needing to be either remotely flexible or strong to start with, but gain that over time and from love of hoop play. It's made me more aware of my human body too." - Vicki Chin, Aerial Students Student
"Super duper fun, recalls childhood playing on the monkey bars, fantastic for upper body and core strengthening. And as an adult, how often do you learn a completely new skill? Great sense of achievement when you start at zero and see your progress over time." - Christina Costigan, Aerial Divas Student
"Hoop is a haven where we learn and celebrate the things our bodies are capable rather than it's short comings. Expression, celebration, fitness and fun!" - Tarah Carey, Aerial Divas Instructor
"Try aerial hoop Aerial Divas to experience the satisfaction you'll feel from exceeding the personal goals you set yourself. You'll soon be addicted. I've experienced this and too many other unexpected positive offshoots to list. If you're reading this, there is a reason, you're interested...so sign up, try a class. Bring a friend, or not, the studio is filled with like minded, friendly, encouraging humans who will soon be your hoop friends and will share the fun with you." - Amelia Hargraves, Aerial Diva Student Ambassador 2017
"You get strong in a way that's so far removed from doing repetitive exercises at the gym. As with any new skill you have to start with the basics, and once you master them your repertoire expands, and before you know it your spinning faster, reaching further and challenging yourself with drops, rolls and 'gasp' doing things on your bad side!" - Shannon Prickett, Aerial Divas Student
Aerial Divas is located in Richmond, Caroline Springs and Mornington, Melbourne, Victoria. We have a flexible timetable to suit the 'every woman' wanting to start a Beginners Course. If you're brand NEW to the studio we have a great Introductory Offer for you - try 5 classes within 14 days for $50. Our INTRO OFFER is a great way to get a taste of all our circus fitness classes, including silks. For all bookings Contact Us directly!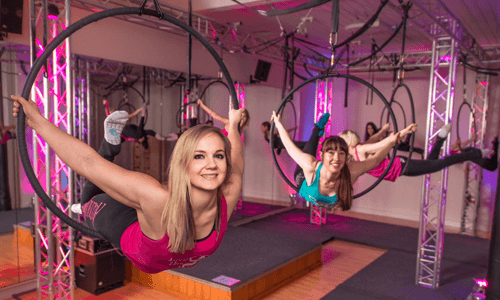 SELECT STUDIO