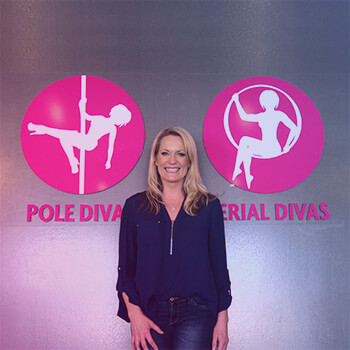 It all began with a BIG dream in 2004…to bring pole fitness to Melbourne, and help women empower and express themselves through pole dancing.
Meet Kennetta: pole dancing pioneer, bold businesswoman and the fearless leader of Pole & Aerial Divas. 
With over a decade of experience in the exotic dance industry, Kennetta had a vision to open a pole dance studio focused on empowering women through pole dance and fitness. With experience as a dancer, Entertainment Manager, and Partner of one of Melbourne's leading dance clubs, Kennetta saw first-hand the amazing physical benefits and confidence that pole dancing gave women. 
Her vision was realised in 2004 with the opening of Pole Divas Prahran – Melbourne's very first pole dancing studio, and one of two pole dance studios Australia-wide. Since then, Pole Divas has been an Australian pole industry pioneer by creating some of the first course syllabuses and by opening the doors to the world of pole dancing. 
Kennetta has since been recongised for her vital role and endless effort in the pole and aerial industry, being honoured as a Pole Industry Hall of Fame Inductee in 2022. 
POLE & AERIAL DIVAS TODAY
We have seven Pole Divas studios operating across Melbourne, with four of them offering Aerial Divas classes in silks and lyra. We are proud to say that our Divas students have gone on to win national and international pole dancing titles and championships, and that some of the world's leading pole dancing and lyra instructors call our studios home. 
Our state-of-the-art studios have beautiful, flattering lighting, large mirrors and are fitted with competition grade static and spin poles. Our Aerial Divas studios are industry leading and showcase the best in lyra and aerial silks equipment. 
We welcome over 1,500 Divas students to our studios each term. Our focus is to provide world class pole and aerial studio facilities, knowledgeable and safe instruction, and a safe place for women and people who identify as female to get fit and feel empowered. 
INDUSTRY EVENTS 
Pole & Aerial Divas has played an integral role in the development of Australia's pole and aerial industry, developing and hosting some of the biggest competitions and events in our country. 
Pole & Aerial Divas organises: 
Unleashed – Created in 2004, Unleashed is our famous amateur student competition held each year to celebrate our Pole Divas students from every location. 

Airborne – Celebrating the emerging popularity of aerials, Airborne is Aerial Divas amateur student competition, created to inspire our lyra and silks students. 

Frisk – Australia's most seductive amateur and semi-pro pole dancing competition, showcasing the sexiest pole dancers from Australia and New Zealand. 

Rising All Stars – Australia's only national semi-pro competition featuring both pole and circus art categories, aimed to give emerging talent the chance to perform onstage at All Stars. 

Aerial All Stars – An elite competition inviting Australia's most high-profile pole and aerial artists. 
Pole Divas also played a vital role in taking Miss Pole Dance Victoria, established in 2005, from exotic clubs to the theatre for many years from its inception. 
OUR COMMITMENT TO THE SISTERHOOD IS LEGAL
Each and every day, we work to keep women (1) exercising and feeling supported.  Our conduct is sanctioned by section 12 of the Equal Opportunity Act 2010 as special measures.
There are many barriers to women participating in sport (2) and developing the social connections that come from sport.  Since 2004, Divas [Pole Divas (3) and later Aerial Divas (4)] has employed women and provided goods and services only to women.  Each studio is run by a local for the women of that community.  We are proud to promote substantive equality by creating safe studios where women can come and participate in group fitness classes and then freely communicate with one another via a community digital network to support each other's fitness journey and more!
If you think Divas is for you – especially if you've felt unsure or lacked the motivation, confidence or desire to exercise in a gym or in group fitness classes with men – know that our studios are run to provide a space for all women to be themselves and to achieve success – TO BE DIVAS xx
 1. Including trans and gender diverse people who identify as female
  2. Pole Divas Franchising Pty Ltd (ACN 118 429 593)
  3. Aerial Divas Franchising Pty Ltd (ACN 601 855 547)
SELECT STUDIO