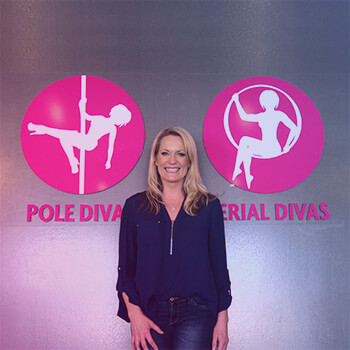 It all began with a BIG dream in 2004…to bring pole fitness to Melbourne, and help women empower and express themselves through pole dancing.
Meet Kennetta… pole dancing pioneer, business woman extraordinaire and the fearless leader of Pole Divas.
With over a decade of experience in the exotic dance industry, Kennetta had a vision to open a pole dance studio focused on pole fitness for all types of women. With experience as a dancer, Entertainment Manager, and Partner of one of Melbourne's leading dance clubs, Kennetta saw first-hand the physical benefits, empowerment, and confidence that pole dancing gave women.
Her vision was realised in 2004 with the opening of Pole Divas Prahran – Melbourne's first, and Australia's second pole studio. Pole Divas played a huge part pioneering the pole industry in Australia, creating some of the first course syllabuses and classes!
Pole & Aerial Divas Today
Pole Divas operates seven studios across Melbourne as well as three Aerial Divas studios; the world's first dedicated aerial hoop studios. Divas students have gone on to win national and international pole dancing titles and championships, and some of the world's best pole dancing and lyra instructors call Pole & Aerial Divas home.
We are proud to welcome over 1,500 Divas students to our studios each term. Our focus is to provide world class instruction, the latest in pole and aerial fitness technology, and a safe place for students to get fit and discover themselves, whilst developing a lifelong passion for pole and aerial fitness.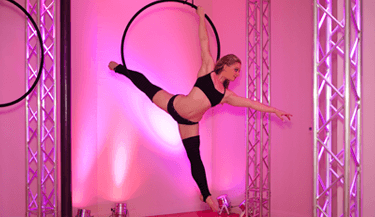 We have created unique female-only studio spaces with custom lighting to create a comfortable, fun and feminine environment. All of our studios are fitted with competition grade static and spin poles.
Pole & Aerial Divas has played an integral role in the development of Australia's pole and aerial industry, developing and hosting some of the industry's biggest competitions and events.
Unleashed – Our famous amateur student competition held each year to celebrate our Pole Divas students from each locations - 2004 being the first year of Unleashed.
Miss Pole Dance Victoria – Pole Divas took this competition from club to theatre for many years from its inception in 2005.
Rising All Stars – Australia's only national semi-pro competition featuring both pole and circus art categories, aimed at giving the up and coming talent of Australia the chance to perform on stage at All Stars.
Aerial All Stars – Australia's most elite and high profile pole & aerial artists are invited to compete at this world renown event
Airborne – Aerial Divas amateur student competition, created to celebrate and inspire our lyra and silks students. 
OUR COMMITMENT TO THE SISTERHOOD IS LEGAL
Each and every day, we work to keep women (1) exercising and feeling supported.  Our conduct is sanctioned by section 12 of the Equal Opportunity Act 2010 as special measures.
There are many barriers to women participating in sport (2) and developing the social connections that come from sport.  Since 2004, Divas [Pole Divas (3) and later Aerial Divas (4)] has employed women and provided goods and services only to women.  Each studio is run by a local for the women of that community.  We are proud to promote substantive equality by creating safe studios where women can come and participate in group fitness classes and then freely communicate with one another via a community digital network to support each other's fitness journey and more!
If you think Divas is for you – especially if you've felt unsure or lacked the motivation, confidence or desire to exercise in a gym or in group fitness classes with men – know that our studios are run to provide a space for all women to be themselves and to achieve success – TO BE DIVAS xx
 1. Including trans and gender diverse people who identify
  2. Read for example here.
  3. Pole Divas Franchising Pty Ltd (ACN 118 429 593)
  4. Aerial Divas Franchising Pty Ltd (ACN 601 855 547)
Kennetta has played an integeral part in the National Competition Eligibility Standards working alongside the biggest names in the industry. In 2016 a group of established Australian competition organisers (ACO) got together to endeavour to implement a simple guide for Australian polers to understand what competitions they can enter, and have a clear path for progression through the competition circuit. For more information about the Eligibility Standands click here!
SELECT STUDIO