Welcome to Pole Divas
Pole Divas is your premier destination for pole dance & fitness In Melbourne. We established our first studio in 2004 and have since grown an incredibly supportive community with 7 locations throughout Melbourne. We have a huge variety of pole dance and fitness classes on offer at all our studios, from pole tricks, pole dance, conditioning and flexibility.  Whatever it is your want to get out of pole, we've got you covered!
Static Vs Spin Pole
The most common question we get asked is what's the difference between static and spin pole. Many people don't realise that the Pole actually SPINS. Dancer holds on, pole spins #mindblown.
● Spin pole is all about learning to control your speed while spinning around the pole.
● Static pole is about learning to create momentum so that your body spins around the STATIC pole.
Which one is easier?
As with all big questions, there is no easy answer!
Spin pole can feel more challenging because of the added element of having to control your speed
But with static pole, the pole burn is more intense. The general consensus from our students is that static is a little easier when you first start out. But we highly recommend you try both and make up your own mind.
Pole Dancing at Divas
FITNESS DIVAS STYLE
Why choose Pole Dancing?
Because it's FUN, it challenges you in everyway possible and there really is something for everyone.
● Build strength as you learn to climb, spin and flip on the pole
● Improve your coordination as you learn how to move your body in a whole new way through our range of dance styles
● Get that heart rate up and increase your cardiovascular fitness as you dance your cardio
● Improve your flexibility and mobility in our stretch classes
A FEMALE ONLY FITNESS SPACE
Why choose Pole Divas?
● Be taught by a team of talented instructors whose passion is teaching beginners just like you
● 1 person per Pole. You never have to share your equipment with another student
● Be surrounded by like-minded women at the only women's only pole dancing studio in Victoria
Being a women's only studio means a lot to us and really defines us as a brand. We know that for some, a female-only space isn't right for them, and that's totally fine. Divas are here for the women who need us to be female only. It is our mission to provide a safe space for women and anyone who identifies as a woman to pole dance and express themselves. This is a 100% judgment-free zone. Our new students are always blown away by our incredibly supportive and accepting community. Are you ready to take that next step and become part of the Divas Community?
Let's look at the difference between courses and casuals
You have so many classes – how do I know which one is for me?
Beginner Static/Spin Pole Courses – over 8 weeks you will learn our beginner's syllabus. The course is progressive so each week you learn new skills and you build on skills from previous weeks. Even though our pole courses are progressive, we have designed them for you to start at any time. Our students spend a few terms at least in beginners so it really doesn't matter when you start as you will do the course multiple times before looking at moving to the next level. The best part of our pole courses is that they are flexible and will run multiple times a week on our timetables, so you don't need to commit to the same day and time each week unless you want to! And if you miss a week, it's no stress, you can do a make-up class or catch that content in a later term! 
Casual classes – our casuals focus on a specific area, either pole dance, strength, or flexibility training. These 3 elements all complement our courses perfectly BUT some of our students just do casual classes as they don't want to learn tricks, and that's totally FINE! Pole dancing can be whatever you want it to be! New and different content is taught every week in casual classes, and it changes between instructors as well.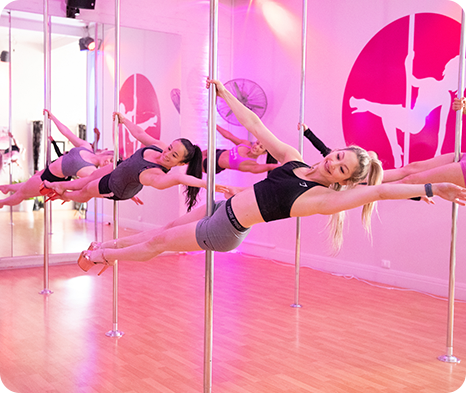 Where do I start?
Beginner Static/Spin
● 8-week progressive course
● Learn the basics of pole such as climbing, mounting, spins and flipping upside down
● Continue in beginners until you feel confident in the graded content
● Complete a grading during class with your instructor to move on to inter prep
Our 8-week Pole courses can be started at any point during the term. But if you would prefer to start in week 1, then get started with our huge range of casual classes instead. These are an amazing way to introduce you to the world of pole fitness and, will help to prepare you for a beginners course. 
Which locations offer Pole?
BOOK USING THE
DIVAS APP
SELECT STUDIO