Need an awesome present for the Diva in your life? Surprise her with a Pole & Aerial Divas Gift Card! They're easy to order online and she can use it for anything in our studio including classes, courses, workshops, studio hire, practise time, clothing, shoes, grip aids, and more! 
Buying a Gift Card is simple. Follow these easy steps to buy a Gift Card online:
1. Select which studio you would like to buy your Gift Card for:
2. Click on the "BOOK ON-LINE" tab, then 'Gift Cards' in the lower menu
3. Select an item from the drop down now. And follow the prompts as follows. You can select your own nominated amount for your Gift Card by selecting "Gift Card (Custom Amount) at $0.00)
You have a number of images to chose from for your Gift Card, see below examples: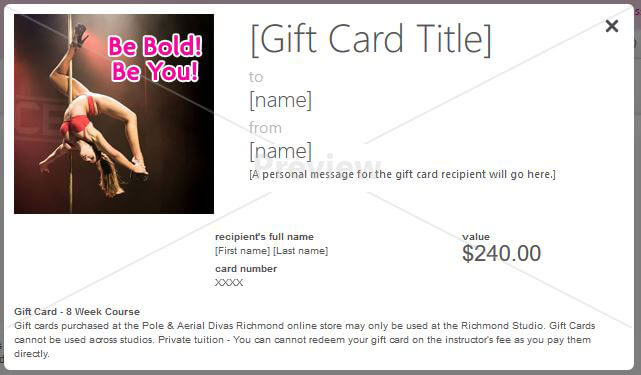 4. Upon purchase, the gift card will be emailed to the recipient.
PLEASE NOTE: if the gift card is used for private tuition, the gift card is only redeemable for the 'Studio Hire' portion of the private tuition. The student will need to pay the instructor's fee directly to the instructor. No refunds or exchange on Gift Cards purchased.
SELECT STUDIO